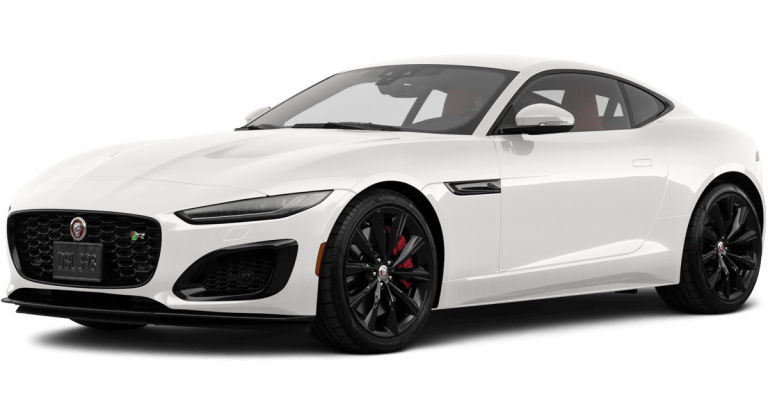 2022 Jaguar F-Type Invoice Pricing
2021 F-TYPE Convertible First Edition w/RWD. Powered by a turbocharged 2.0 L, 4 Cylinder Gas Engine w/Automatic Transmission
| MSRP | Invoice Price | Delivery Fee | Holdback | Dealer Cost |
| --- | --- | --- | --- | --- |
| $75,400 | $70,876 | $1,150 | No Holdback | $72,026 |
2021 F-TYPE Convertible P300 w/RWD. Powered by a turbocharged 2.0 L, 4 Cylinder Gas Engine w/Automatic Transmission
| MSRP | Invoice Price | Delivery Fee | Holdback | Dealer Cost |
| --- | --- | --- | --- | --- |
| $64,700 | $60,818 | $1,150 | No Holdback | $61,968 |
2021 F-TYPE Convertible R w/AWD. Powered by a Intercooled Supercharger 5.0 L, 8 Cylinder Gas Engine w/Automatic Transmission
| MSRP | Invoice Price | Delivery Fee | Holdback | Dealer Cost |
| --- | --- | --- | --- | --- |
| $105,900 | $99,546 | $1,150 | No Holdback | $100,696 |
2021 F-TYPE Convertible R-Dynamic w/AWD. Powered by a Intercooled Supercharger 3.0 L, 6 Cylinder Gas Engine w/Automatic Transmission
| MSRP | Invoice Price | Delivery Fee | Holdback | Dealer Cost |
| --- | --- | --- | --- | --- |
| $84,900 | $79,806 | $1,150 | No Holdback | $80,956 |
2021 F-TYPE Coupe First Edition w/RWD. Powered by a turbocharged 2.0 L, 4 Cylinder Gas Engine w/Automatic Transmission
| MSRP | Invoice Price | Delivery Fee | Holdback | Dealer Cost |
| --- | --- | --- | --- | --- |
| $73,100 | $68,714 | $1,150 | No Holdback | $69,864 |
2021 F-TYPE Coupe P300 w/RWD. Powered by a turbocharged 2.0 L, 4 Cylinder Gas Engine w/Automatic Transmission
| MSRP | Invoice Price | Delivery Fee | Holdback | Dealer Cost |
| --- | --- | --- | --- | --- |
| $61,600 | $57,904 | $1,150 | No Holdback | $59,054 |
2021 F-TYPE Coupe R w/AWD. Powered by a Intercooled Supercharger 5.0 L, 8 Cylinder Gas Engine w/Automatic Transmission
| MSRP | Invoice Price | Delivery Fee | Holdback | Dealer Cost |
| --- | --- | --- | --- | --- |
| $103,200 | $97,008 | $1,150 | No Holdback | $98,158 |
2021 F-TYPE Coupe R-Dynamic w/AWD. Powered by a Intercooled Supercharger 3.0 L, 6 Cylinder Gas Engine w/Automatic Transmission
| MSRP | Invoice Price | Delivery Fee | Holdback | Dealer Cost |
| --- | --- | --- | --- | --- |
| $81,800 | $76,892 | $1,150 | No Holdback | $78,042 |
2022 Jaguar F-Type Overview
Despite the overwhelming desire for an SUV's overall size, there is a place for coupes and preferred shares in the luxury market. A coupe or convertible version of the 2022 Jaguar F-TYPE is available. In terms of typical features and mechanical specifications, they're very comparable, therefore the only real distinction is in their physical form.
Since its debut in 2014, the F-TYPE has been in the first generation. Since its debut, Jaguar has taken feedback from customers and critics alike, making adjustments as they see fit. 2022 will be no different. Though some trim levels are not really marketing as well as others, this year's line-up is pared down to just a few.
When it comes to finding a tiny premium coupe or convertible, then the 2022 Jaguar F-TYPE is a great option. This year's model will be reviewed in terms of what's new, how it runs, and what you should expect in terms of fuel economy. Wait until the conclusion to find out what we think of this sporty little number.
2022 Jaguar F-Type Video Review